Facilities
Self catering holidays allow you to prepare your breakfast and enjoy the large terrace or your garden.
Upon arrival you will find a complimentary basket with fruit, toast, jam, butter, coffee, tea and sugar milk. In the refrigerator you will also find cold water and juice at your disposal. There is a supermarket just 300m from Anna's apartments towards the little port of Boukari.
Linen and towels are changed every three days.
Sunbeds and umbrellas  are provided to our clients for use in the garden or at the beach which is situated just 20 meters in front of our apartments. There is also an outdoor shower in the garden. For the adventurous who want to discover the surrounding beaches of Boukari, we can arange for you upon request excursions with canoes and sup.
Parking space available outside the apartments.
Taxi There is a taxi rank outside the airport, port if you prefer to get your taxi upon arrival, the approximate route time is around 30-40 minutes depending on the traffic. We would also like to inform you that the route to Boukari is 25 km. For direct reservations with the call center of Corfu taxi you can call 26610 33811 or visit www.corfutaxi.gr or e-mail: info@corfutaxi.gr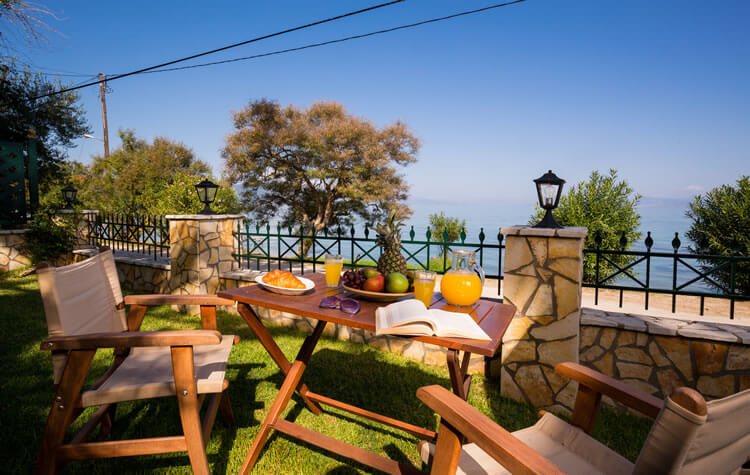 You can rent a car in Corfu upon arrival at the airport. If your arrival is at the port, then it is advisable that you arrange in advance to have a car rental agent waiting for you at the port. In this case we can make a reservation on your behalf to rent a car so that you can collect it at your point of arrival and return it to the point of your departure.
We can also help you rent motorbikes, bikes and boats.
Public transportation 
Corfu Town - Messonghi - Boukari
You can use the Urban Bus service to move to and from Corfu Town to Messonghi (23 km) or from Messoghi to Boukari (3 km). There are also taxis to Boukari available.
Corfu airport - Messonghi - Boukari
There is no fixed line of urban Bus service linking the airport with Corfu Town.
(Tel. for airport information +30 2661089600)
The transport between Corfu Airport and Corfu Twon can be done with a taxi or car rental.
Corfu Port - Messonghi - Boukari
Bus Service from Corfu port is available. Bus No.2 (blue bus) will take you to Corfu Town. From there you will find a bus stop to Kavos where you can take a green bus. It will drive you to the bus stop of Messonghi.
tel: (+30) 26610 31595 city bus (blue)
tel: (+030) 26610 28927 KTEL (Green) or www.ktelkerkyras.gr
Carriages in Corfu
For the romantic, a horse and carriage ride in the center of Corfu will be a wonderful experience. Even today, the carriage ride is an unmissable tourist experience. Departure points are at the central square (Spianada) and the Old Port. The usual route of the carriage ride is: Spianada - Mouragia - Agia Sophia - George Theotoki str.- Desilla – Tennis Area – Alexandra Ave. - Coast of Garitsa - Spianada. The duration of the tour is approximately 40 minutes and the coachman will guide you to the main attractions. The cost is between 25 and 30 €. If you wish to take  a particular tour or a tour out of season you can contact the President of Corfu Coachmen Union, Mr. Alexandros Vlachos 26610-24162 or let us know so we can arrange the tour for you.
We can arrange for you:
Car Rental in Corfu.
Motorbike, bike and boat rental.
Book a taxi for a tour of the island of Corfu.
Carriage ride reservation.
Book a tour of the island
For any inquiries, please do not hesitate to contact us.
Anna